ProSwing Golf / Meta Quest 1 & 2
• Competition-level molded golf grip.
• Patented grip design that wicks moisture and provides superior friction.
• Golf Presets for Golf+ and exVRience Golf Club.
• Additional mass and realism with ProSwing 500g+ total weight.


---
Composite shaft and competition grip - for faster swings and enhanced feel.

You can relax and enjoy each game, confident that your controller's secure - thanks to our unique, self-tensioning fidget lock system.
Features:
Upgraded controller cup with unique self-tensioning fidget lock design.
Custom molded handle with inverted mesh texture.
Longer composite shaft for potential higher swing speed.
VR attachment presets for Oculus VR Games | Golf+ and exVRience Golf Club
Superior Grip Design with Inverted Mesh Texture Technology
Inspired by biomimicry, our revolutionary patent-pending Inverted Mesh texture mimics the foot of a Gecko to provide superior grip traction. The surface projections act to automatically lighten grip pressure by increasing the surface area of the grip. The channels between the dimples conveniently wick moisture from the hands. The Inverted Mesh texture also concentrates the feel of your shots into smaller points on the grip to effectively enhance tactile feedback.
✅ Superior tackiness   ✅ Reduces grip pressure
✅ Wicks moisture       ✅ Enhances tactile feedback
 PERFECT GAME PAIRINGS:
What's the difference between ProGrip vs. ProSwing?
They're not one better than the other but different in their own ways! The main difference is between the shaft and the grip; ProGrip sports a metal core for stiffer and weighted swing(best for minigolf), while the ProSwing has a composite yet longer shaft for potential higher swing speed.
• ProSwing real regulation grip attachment with fidget lock system.
• ProSwing Plus with ProWeight add-on (500+ grams total weigh
PROSWING
• ProSwing real regulation grip attachment with fidget lock system.
• Spare wrist strap lanyard (just in case)

PROSWING+
• ProSwing real regulation grip attachment with fidget lock system.
• Spare wrist strap lanyard (just in case)
ProWeight add-on (500+ grams total weight)
⚠️ DISCLAIMER

- These are 3D printed hard plastics, leaving them out in extreme weather conditions such as intense heat may cause deformation in parts.
- Play responsibly and watch your play surroundings; we are not responsible for potential injuries or property damage should the attachments fly out of your hands during intense sessions.
- These are VR entertainment-based pistols. It is not advisable to perform or utilize in front of law enforcement or the general public without any consent.
- When traveling, please be sure to store these attachments in luggage to check in. Traveling as a carry-on is not advisable.
You'll want these too, trust us:
Fantastic
The attachment was as good as expected! Felt more like a real club than I thought it would. Easy to set up and great for the game.
Will return!
The ProSwing+ putter feels good and looks beautiful! Also, 3D printing is very cool to look at and feels like a product of the future. Well done HelloReal! I will be back to this shop for any other VR accessory I need.
Real Golf Experience
I've tried a few golf club attachments that were not built to last, but my latest addition was the HelloReal ProSwing with ProWeight attachment. Not only is the handle comfortable to grasp and hold, but the ProWeight attachment gives it the weight of a real golf club. Easy to swing. Highly recommended.
Solid Design
It's amazing, I use it almost daily. Solid design, and the way it secures the controller are both excellent and genius. If you get the weight, all together it's pretty close to the real thing.
Beautifully Made!
Love my ProSwing+! The material on the grip is so smooth and nice to hold onto, and the entire thing is extremely well made. Nice quality product! The unique fidget lock mechanism to lock down the controller wrist strap is brilliant. I have no worries that I will lose my controller while playing. The ProWeight makes it a little heavier, which makes it feel more like a real golf club, which makes for better immersion! After playing Walkabout Mini Golf with this a few times, I played once without it and I sucked, lol. It just didn't feel right to swing with just a lightweight controller anymore. I'm using this every time from now on!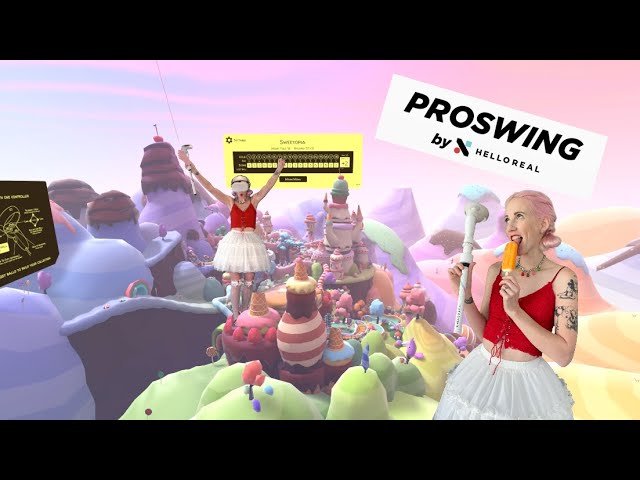 Shows a lot of promise
The item shows a lot of promise. I have contacted the creators about passing some samples around to my VR group and I'm sure they will like them as well as I did. The idea of realism (immersion) in VR is important for more enjoyable gameplay and this item is a step in the right direction.