ProSwing Tennis / Meta Quest 1, 2, and Quest Pro
• Custom HelloReal preset in First Person Tennis


---
SHIPPING NOW!

For the player who wants the ultimate playability and performance. 
Realistic overgrip with a natural feel and authentic experience.
Its unique graphic composite shaft, stiffer racquet for crisper volleys, and deeper groundstrokes. The first thing you'll notice is its remarkable feel, smooth and quiet with superb ball control
Features:
✅ Authentic overgrip design that feels natural.
✅ Accurate and balanced weight ratio for maximum control.
✅ QuickSwap system for interchangeable grips
✅ Realistic racket weight of around 280g
✅ Ambidextrous design for right and left controllers(Quest 1, 2, and Pro)
Racket length and weight: 47cm at 280grams
 PERFECT GAME PAIRINGS:
• Authentic overgrip design that feels natural.
• Optimized and realistic tennis swing weight (~280g)
• Accurate and balanced racket size (~46cm)
• Unique fidget lock system to secure controller in place.
PROSWING
• ProSwing Tennis attachment equipped with2.0 adapter and fidget lock system.
VR Sports Attachment

 

PROSWING / PROGRIP INSTALLATION

QUEST PRO COMPATIBILITY

 

Tips 

Coming Soon

 

 
⚠️ DISCLAIMER

Play responsibly and watch your play surroundings; we are not responsible for potential injuries or property damage should the attachments fly out of your hands during intense sessions.
You'll want these too, trust us:
Disappointed
There is no haptic response built in to this unit. Just a mock tennis racket handle. That isn't particularly clear from the advertisement. Also, the swing weight is exceptionally heavy for a tennis racket, which is primarily due to the Meta controller's weight but also due to the positioning distance of the controller from the handle. It's fine for a video game but if you are looking for a virtual tennis training tool there are multiple simulation rackets for the Quest 2 at this price point with better weight and balance as well as haptic response. We bought two to use with VR tennis simulation and never unpacked the second one from the box.
Amazing!
I love it! There is slight move on the pin where the racket connects to it's bar that slightly moves when I move the racket, but it's not a big deal.
Overall, very happy with it.
Must have for tennis in VR
This has become one of my most useful accessories! The problem is that once you use it, you can't NOT use it for tennis games. Definitely worth the money, well made and not just some cheap white label product. Legit feels like holding a tennis racket!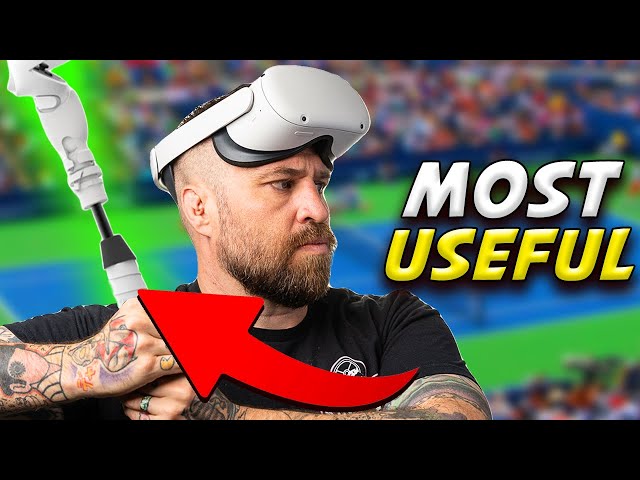 Must have one
I give four stars because it 's lacking of preset from the developer when you play a tennis with quest 2. I am still waiting for the preset configuration from the developer. But you still can play tennis with your own manual setting in the game. Hopefully they have that preset build in the game back again.
Hi D, the game developer is patching up some bugs so the preset is temporarily unavailable. Unfortunately this is out of our hands but we are ensured that the next update will come with the preset so stay tuned.
Feels like the real thing!
Love my ProSwing Tennis! Looks and feels so nice. I played some First Person Tennis with it and it really felt like I was playing with a real tennis racket instead of just my tiny Quest 2 controller.
The top piece is now right and left controller compatible, which means you don't have to specify at checkout and everyone can share!
The fidget lock system was already amazing but has been improved and is so smooth.
And the new QuickSwap system is brilliant! You can quickly unscrew the handle part of the attachment and swap it out with future attachments that will be compatible.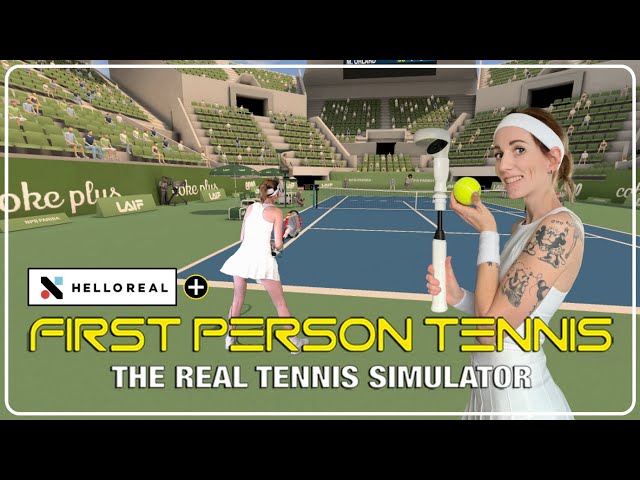 Amazing
It feels like my real racket